Broaden Your Knowledge at Alfaisal University
Certified Big Data and Data Analytics Practitioner (CBDDAP) ( Registration is Closed)
The Executive Education & Development Office, College of Business - Alfaisal University is pleased to announce that registration is now open for the Certified Big Data and Data Analytics Practitioner (CBDDAP) Course, Starting on Sunday, November 26th, 2023. Begin your journey to become a Certified Big Data and Data Analytics Practitioner.
Certified Big Data and Data Analytics Practitioner (CBDDAP)-Why to attend:
Big Data is a "Change Agent" that challenges the ways in which leaders in organizations can make decisions. This course will provide participants with the tools in how to articulate Big Data architectures to support data driven solutions within their organizations. It provides hands on experience with "key" Big Data technologies used to solve intensive data challenges/problems. Participants will gain the knowledge and skills needed to assemble and manage large-scale Big Data analytics projects.
Course Methodology
This is a highly interactive course with group discussions and group activities, case studies, and hands-on practical exercises.
CBDDAP Course Objectives:
by the end of this course, participants will be able to:
Design Big Data implementation plans and create strategies for data-driven solutions
Discuss the mail challenges and advantages of Hadoop ecosystem and other Big Data distributed architectures
Demonstrate and discuss key technologies for Big Data storage and computing, such as PostgreSQL and MongoDB
Discuss popular "Machine Learning Algorithms" and the importance of ethics in data analytics and Artificial Intelligence
Deliver an architectural diagram for analytics focused business cases
Course Outline:
Introduction to Big Data Analytics
Storing Big Data
Computing Big Data
Big Data Projects
Architecting Big Data Solutions
Targeted Audience:
This course is ideal for Data Analytics, Data Engineers, Data Scientists, as well as technology-inclined management and administrative professionals seeking to understand Big Data strategies and technologies.
CBDDAP Prerequisites:
Pre-knowledge of basic programming experience and analyzing data in python. Knowledge of basic database technologies, and awareness of data analytics business-driven initiatives.
Course Information:
Starting Date

Sunday, November 26th, 2023

Training Format

In-person (on-site)

Program Duration

Five (5) Days

From November 26th, 2023- November 30th, 2023

Location

Alfaisal University Campus, Riyadh, (Takassusi Street)-College of Business

Fees

SAR 13,000 -including Study Materials

Program Schedule/ Timing

Afternoon and Evening Sessions (With breaks)
Sunday – Monday (6:00PM – 9:00PM)
Tuesday – Thursday (4:00PM – 8:00PM)

Program Language

English

Deadline date for receiving applications
Thursday 23, November, 2023
(CBDDAP) Professional Trainer: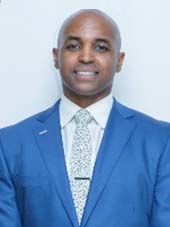 Dr. Anthony Franklin, PhD.
Dr. Anthony Franklin is an accomplished big data and data analytics expert, consultant, and trainer with over 15 years of experience in machine learning, deep learning, and artificial intelligence (AI). He is specialized in data analysis, data visualization, data engineering, and data architecture across diverse sectors, including sports and entertainment, financial services, marketing, and customer intelligence. Dr. Franklin has revolutionized how industries harness data to drive insights and decision-making.
Dr. Franklin currently delivers multiple big data, machine learning, and programming courses globally, including in the GCC. His courses include R, Python, and SAS, and aimed to compare the strengths and weaknesses of each. He previously worked at Microsoft as a big data and AI architect and has worked in R&D as a developer for multiple analytics software products.
Dr. Franklin has trained thousands of professionals and students on various statistical and analytics concepts. He worked as an instructor for the Institute of Advanced Analytics at North Carolina State University, teaching R programming, SAS programming, and advanced modeling techniques. He also has experience at SAS Institute, where he has trained and enabled enterprise companies on major data-intensive solutions. At SAS, he worked with major financial lending corporations, such as GE Capital, and helped architect their credit risk modeling practices.
Dr. Franklin recently served as the Head of Artificial Intelligence and Machine Learning (Enterprise Data & Analytics) at Red Hat. His clients in the financial services industry included GE Capital and Synchrony Bank. He has also provided consulting within the Energy Sector through General Electric (GE) Oil & Gas.
Click Here to Register
For inquiries, please contact the Executive Education & Development Office at Alfaisal University
Telephone: + 966 11 215 8995 + 966 11 215 7709 Mobile Business Account: 0537741330
Email: exec.ed@alfaisal.edu