Certified Associate in Project Management (CAPM)
CAPM Program for Men and Women (Registration Closed)
Alfaisal University will offer an approved 30 hours of Exam Preparation for the Certified Associate in Project Management (CAPM) ® designation for men and women in Riyadh, Saudi Arabia at Alfaisal University campus. The course is led by a qualified trainer.

Dates: Sunday & Tuesday (6:00 PM – 9:30 PM), Starting on July 8th, 2018.

Location: Alfaisal University Campus, Riyadh (Takassusi Street).
Cost: SAR 5,000 (including study materials).
PMP Schedule: CAPM Schedule – July 2018

What is CAPM?
The CAPM certification offers recognition to practitioners who are starting a career in project management as well as project team members who wish to demonstrate their project management knowledge. This certification denotes that the individual possesses the knowledge in the principles and terminology of A Guide to the Project Management Body of Knowledge (PMBOK® Guide), the standard of project management's generally recognized good practices. Individuals who contribute specialized skills to a project team can benefit from this certification by allowing them to align their work with that of project managers. The knowledge a practitioner gains from earning the CAPM certification can be applied to on-the-job experiences which help develop growing levels of competence in the practice of project management. Individuals who carry the CAPM designation after their name enjoy a high level of credibility from PMP® credential holders, project managers, employers and peers.
Why CAPM at College of Business at AlFaisal University?
The Project Management Institute (PMI), the world's largest project management association has named AlFaisal University as a Registered Education Provider (REP) and this makes us the first to obtain such accreditation in the Kingdom which further enhances its role to provide market-oriented quality education and trainings.
Instructor Profile "Hossam AlWazzan- PMP, PMI-RMP":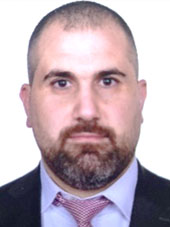 Hossam AlWazzan is a Project Management consultant and trainer with wide knowledge in project management. He has a Bachelor Degree in Management of Information Systems and he is currently enrolled in a Master of Business Administration (M.B.A) program. Hossam is a Project Management Professional (PMP) certified and Risk Management Professional (PMI-RMP) certified from Project Management Institute (PMI).

Hossam is currently playing an active role in Lifestyle program developed under Saudi Arabia Vision 2030. He is acting as a Program Manager and is responsible in organizing the projects and activities in accordance with the mission and vision of the whole program. Hossam is managing a team with diverse expertise and responsibilities to ensure proper implementation of the program. In addition to meeting with stakeholders to make communication project issues and decisions on services.

Hossam was a member of the National Center for Performance Measurement, responsible for monitoring and controlling the performance of "National Transformation Program" initiatives which is one of the major programs under Saudi Arabia Vision 2030. Hossam led the evaluation of portfolio performance and provided recommendations to decision makers at each stage in the initiatives implementation. Hossam also coached team members on how to properly plan and report the progress of work.

He has worked on a PMO development & Project Management Process Improvement project with an international US based project management consulting company for SWCC in Riyadh (One of the largest water desalination entities in the world). Hossam enrolled in defining the PMO structure, developing the governance framework, in addition to establishing the project management methodology along with the required templates and workflows. He also coordinated the automation of all project management processes to ensure smooth execution of processes. Hossam was also involved in an OPM3 assessment for Exterran (an Oil & Gas Company in Dubai). And he was also selected to assist in developing the project policies, procedures, bylaws, governance framework, project management methodology and templates.

Click Here to Register
For Enquiries and Registration, Please Contact
Telephone: + 966 11 215 7709
Email: exec.ed@alfaisal.edu