Broaden Your Knowledge at Alfaisal University
Project Management Professional (PMP)® ( Registration is Closed)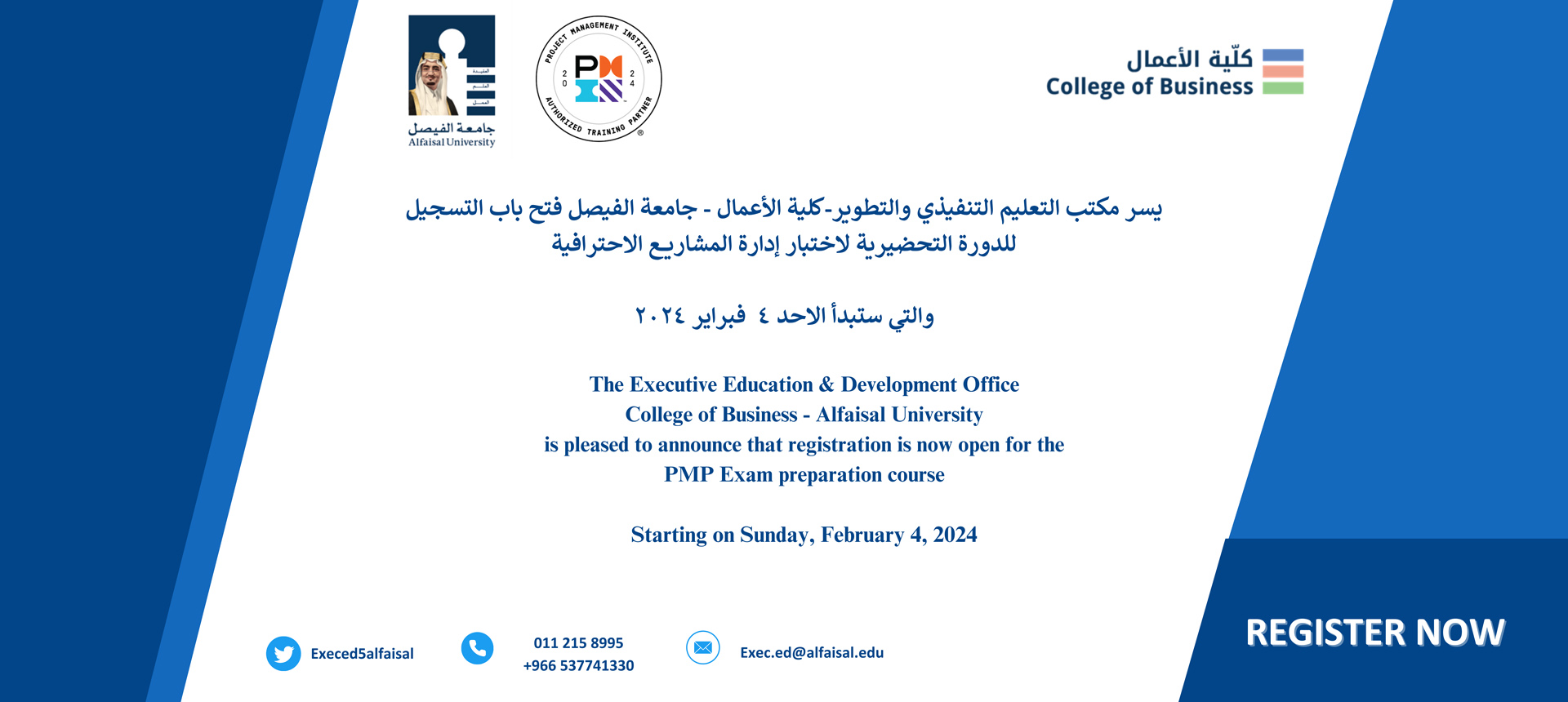 Project Management Professional (PMP)®
The Executive Education & Development Office-College of Business at Alfaisal University is pleased to announce that registration is now open for the Project Management Professional (PMP)® Exam Preparation Course. Begin your journey to become a Project Management Professional (PMP)® and gain the skills to successfully manage projects with an approved 35 hours of exam preparation course.
What is PMP® Certification?
The Project Management Professional (PMP)® Certification offered by the Project Management Institute PMI® is the most recognized industry certification for project managers. PMP® certification demonstrates that you have the experience, education, and competency to lead projects.
Why to attend PMP® at Alfaisal University?
The Project Management Institute (PMI)®, the world's largest project management association has recognized Alfaisal University as an Authorized Training Provider (ATP)® and this makes us the first to obtain such accreditation in the Kingdom which further enhances its role to provide market-oriented quality education and training.
PMP Advantage
It increases your marketability, local & global network with professionals with similar credentials
Earn a globally recognized Certification
Better career opportunities for Project Manager Professionals
Get exposed to industry's best practices in project management, latest tools, and frameworks
Demonstrate your knowledge and ability to lead projects efficiently
Course Information
Starting Date

Monday, August 7, 2023

Training Format

In-person (on-site)

Program Duration

Ten (10) Days-from August 07, 2023-September 06, 2023
((every Monday & Wednesday of each week))

Location

Alfaisal University Campus, Riyadh, (Takassusi Street)-College of Business College of Business

Fees

SAR 5,000 -including Study Materials

Program Schedule

Time

Evening Sessions starting at 6:00PM-9:30PM

Program Language

English
PMP Professional Trainer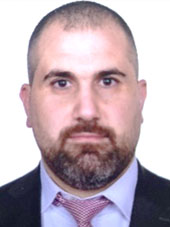 Hossam Al-Wazzan, MBA, PMP, PMI-RMP, SIP Hossam Al-Wazzan is a project management & transformation consultant with expertise in developing project management methodologies, establishing project management offices, and managing transformation programs across organizations. In addition, Hossam is a recognized project management trainer having delivered over 50 courses for major and reputable firms in MENA region. He has a bachelor's degree in management of information systems and a master's degree in business administration (MBA). Hossam is a Project Management Professional (PMP)® certified and Risk Management Professional (PMI-RMP) certified from Project Management Institute (PMI). Hossam is also a Strategy Implementation Professional (SIP) from the Strategy Implementation Institute.

Hossam has worked on different organizational transformation projects, established several project management offices, developed multiple project management methodologies, was involved in different Vision 2030 programs, and managed the implementation of different initiatives within major VROs by following ADAA and EXPRO standards. Hossam has engaged with "National Industrial Development and Logistics Program", he also played an active role in the "Quality of Life" program. Hossam was also a member of the National Center for Performance Measurement (ADAA), responsible for monitoring and controlling the performance of "National Transformation Program" initiatives.
For inquiries, please contact the Executive Education & Development Office at Alfaisal University, College of Buisness.
Telephone: + 966 11 215 7709 | + 966 11 215 8995
Email: exec.ed@alfaisal.edu