Minor in Business Analytics
Why a Minor in Business Analytics?

Today's global marketplace continues to evolve at a fast pace as emerging technologies disrupt industries ranging from healthcare to finance to retail. These conditions are magnified as geopolitical and economic forces are in constant flux, thus creating a volatile, uncertain, complex and ambiguous business environment dependent on analytical skills to interpret big data into usable business information.
Various professions, including accounting, finance, marketing and supply chain advocate for greater development of cutting-edge business analytical skills for the modern workplace. Acknowledging the rising importance of the science of business analytics and the need for the associated skills, the department of Operations and Project Management (OPM) developed a new minor in, "Business Analytics", designed to teach students from any major the diverse dimensions of Business Analytics.
Be unique: Get an edge in the market

The Business Analytics minor is a unique minor that integrates a functional area of business with computer expertise. It is a minor that develops skills in the use of data and the computer as decision-making tools and provides expertise in a business field in which these skills can be applied. The modern business employer is looking for graduates who have more than just a degree in a particular functional area. The minor in Business Analytics will provide students with the cutting-edge knowledge and skills they need to use and gather data to identify, understand, and deliver insights that internal and external clients find vital to organizational success.
CoB with its motto 'true to the promise' is a trailblazer in understanding market needs and customising its curriculum to develop and reflect the ever-changing business needs. To address this critical need the college added a minor in Business Analytics and is planning to offer a major in the area in the future. The choice of courses will make undergraduate students skilled in big data, data mining, AI, forecasting, data strategy, predictive analytics and business intelligence. Different cutting-edge software will be introduced in this minor including Microsoft Power BI, Tableau, SPSS and advance excel.
Our Strength:
Our core strengths are top-quality faculty, market leading software and our excellent industry-academia collaboration. This helps us create critical thinkers of tomorrow, equipped with cutting edge skills who have ethical consideration at their core.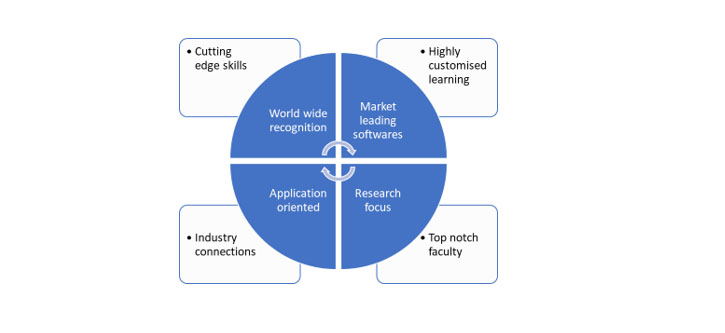 Requirements for adding a Minor
The College of Business (CoB) student can add a minor to their BBA degree (in addition to his/her major) subject to the following conditions/requirements:
When can I add a minor? Student can add a minor only after successfully completing a minimum of 60 credit hours and has established a major.
Minimum CGPA requirement: The student's cumulative GPA must be 3.0 or above at the time of adding the minor. Such students must maintain a minimum cumulative GPA of 3.0 until graduation to receive a minor.
How many minors can I add? A student can add only one minor. Double major students are not allowed to add a minor.
Additional required CH for a minor: A minor comprises five additional courses, equivalent to 15 credit hours. The minimum requirement for BBA with a minor is therefore 145 credit hours comprising the following:
i.A minimum of 130 CH in the standard major for the degree, plus
ii.Additional five courses are listed under each minor offered by CoB Please see the Business Analytics minor below.
iii.No double counting: Courses common between the major and the minor will be counted only once. Such students will be required to complete replacement courses for the courses common between the major and the minor as approved by the COB. Hence, the minor amounts to adding one more semester or two summers for the time required for the BBA degree with one major.
Business Analytics Minor courses
Students should complete the following five courses to minor in business analytics: Fixed Courses
BAN 350 Predictive analytics and data mining
BAN 370 Business Big data Intelligence
BAN 410 Applied Business Analytics Project
OPM 340 Operations Management
ONE course from the following list
BAN 380 People Analytics and strategy
OPM 390 Special Topics in Operations Management
MKT 330 Marketing Research or any other 3rd/4rth year course approved by the department chair.