Data Analytics Training Program for Men & Women
Alfaisal University will offer 45 contact hours of Data Analytics training program for men and women in Riyadh, Saudi Arabia at Alfaisal University campus. The course is led by a qualified and highly experienced trainer.

Dates: 6 June 2021
Schedule: Data Analytics
Cost: SAR 7,000
Teaching Mode: In-Class Lectures (with all COVID-19 precautions applied inside the campus and the classroom)
Location: Alfaisal University Campus, Riyadh (Takassusi Street).

What is Data Analytics Program?
For those with little or no experience analyzing and manipulating data, this course quickly equips you with fundamental techniques to use data for better decisions. By the end of this course you will be able to plan from the scratch how to build most effective dashboard by selecting most fit KPIs, clean and prepare data, design dashboards with best design tips and finally perform the analytics and tell the story.
Data Analytics Advantages
Proactivity and Anticipating Needs.
Mitigating fraud and risk
Identifying the right decision
Personalization
Optimizing the customer experience
Opens many doors for employment and at higher compensation job.
You will learn about
Data types and structures
Using data to solve problems
How to analyze data
Data storytelling with visualizations
Using Tableau programming
Better reporting and presentation
Who Should Attend?
Fresh graduates.
Data and Business Analysts
Functional managers and business heads
Senior executives
Consultantsg
Leaders and Managers
Eng. Akram Zalloum - Senior Data Analytics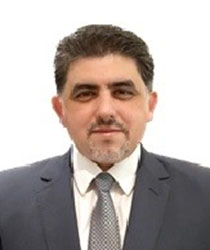 Akram is responsible for the ongoing outcomes attainment, technology adoption, and satisfaction of key customers in the healthcare vertical. Based on more than 22 years of experience in information technology he built very solid experience in different technologies that make him excel in managing and implementing many mid and large-scale projects related to digital transformation. He holds a Bachelor's Degree in Computer Engineering and Master Degree in Computer Information Systems, in addition to many professional certifications in Data Science and Data Visualization supported by excellent interpersonal skills and the managerial skills.
Click Here to Register
For Enquiries and Registration, Please Contact
Telephone: + 966 11 215 7709
Email: exec.ed@alfaisal.edu