Broaden Your Knowledge at Alfaisal University
Chartered Financial Analyst (CFA Level 1) ( Registration is Closed)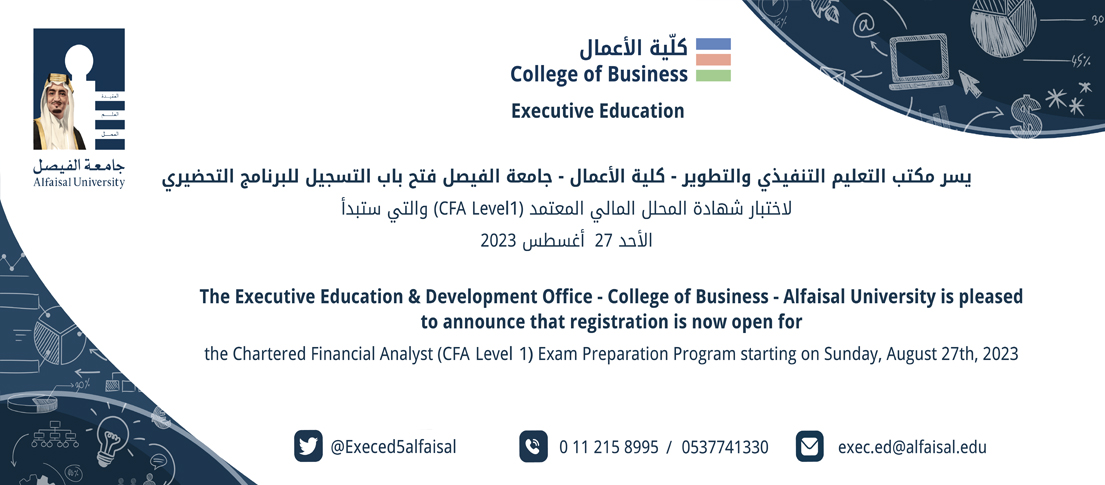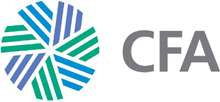 The Executive Education & Development Office-College of Business at Alfaisal University is pleased to announce that registration is now open for the Chartered Financial Analyst (CFA Level 1) Exam Preparation Program. The program is led by a group of qualified subject-matter industry expert trainers.
Begin your journey to become a Chartered Financial Analyst. Gain the skills and expertise in Quantitative Methods, Economics, Financial Statement Analysis, Corporate Finance, Equity, Fixed Income, Derivatives, Alternative Investments, Portfolio Management, & Ethical and Professional Standards.
Chartered Financial Analyst
The Chartered Financial Analyst (CFA) is a globally recognized professional designation offered by the CFA Institute for investment and finance professionals. It provides a strong foundation of advanced investment analysis and real-world portfolio management skills.
What is CFA Charter
A Chartered Financial Analyst (CFA) charter is a designation given to those who have completed the CFA Program and completed acceptable work experience requirements. https://www.cfainstitute.org/en/programs/cfa
CFA Advantage:
Gain industry-wide recognition
CFA recognition is one of the most recognized investment designations in the world
Have a strong network locally and globally
Get a higher compensation job
Program Information
Starting Date

Saturday, January 14th, 2023

Training Format

In-person

Program Duration

Three (3) months-from January 14th, 2023-March 14th, 2023

Location

Alfaisal University Campus, Riyadh, (Takassusi Street)-College of Business

Fees

SAR 15,000 -including The Essential Package from Kaplan Schweser

Program Schedule

Time

Combination of Morning and Evening Sessions as in the attached schedule:

Morning sessions (Saturdays)

Evening sessions (Sundays, Tuesdays, & Wednesdays)

*One day session is scheduled on a Monday evening

Program Language

English
CFA Professional Trainers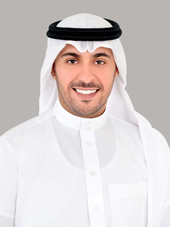 Mr. Ghanem Al Ghanem
Mr. Ghanem AlGhanem, CFA, FRM, is an investment professional focused on developing and implementing asset allocation and investment strategies for institutions and high net-worth investors.
In addition, Ghanem is an adjunct Financial Modeling and CFA instructor covering various topics of expertise including (Equity, Fixed Income, Alternative Investments, Quantitative Methods, Economics, and Portfolio Management). Mr. Ghanem holds two master's degrees from Drexel University, an MBA, & master's in Finance, has an Advanced Certificate in Portfolio Management from New York University, Financial Risk Manager Certification, and is a Chartered Financial Analyst.
Mr. Mohammad Farroukh, CFA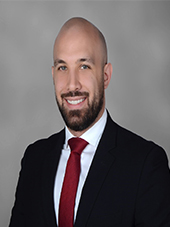 Mr. Mohammad Farroukh, CFA, is a Treasury professional and Vice President – Senior Dealer covering DM and EM Credit Fixed Income and oversees the Fixed Income and Investment Portfolio at Riyad Bank.
Prior to joining Riyad Bank, Mr. Farroukh held the position of Senior Investment Portfolio Advisor covering Shariah Fixed Income at Alinma Bank. Before that, he was a Fund Manager at a private asset management firm and Dealer at Arab National bank. He has over 14 years of Investment & Portfolio Management experience covering several asset classes including Fixed Income, Equities, Derivatives, Private Equity and Alternative Investments.
Mr. Farroukh is a CFA instructor covering various topics including Fixed Income, Equity, Alternative Investments and Portfolio Management. Mr. Farroukh holds a degree in Corporate and Investment Finance from the American University of Beirut and is a Chartered Financial Analyst since 2012.
Click Here to Register
For inquiries, please contact the Executive Education & Development Office at Alfaisal University
Telephone: + 966 11 215 7709
Email: exec.ed@alfaisal.edu